The Tua Foundation to donate $108,788 and 25 Microsoft Surface laptops in support of Maui wildfire relief efforts
August 30, 2023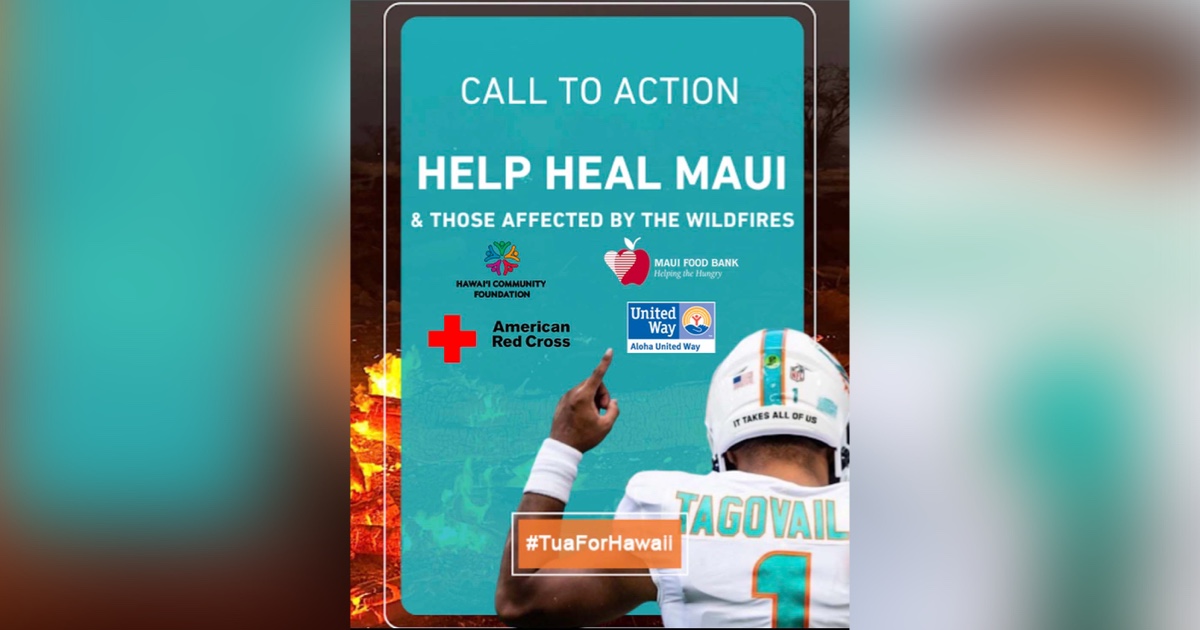 August 31, 2023 (Miami, FL) – Miami Dolphins Quarterback Tua Tagovailoa announced today that the Tua Foundation will provide a grant of $108,788 and 25 Microsoft Surface laptops in support of families on Maui affected by the recent wildfires.
The funds will be awarded to four Hawai'i-based non-profit organizations who are leading the way for the Maui relief effort. The Maui Strong Fund, Aloha United Way, The Maui Food Bank and the American Red Cross of Hawaii, will each receive a grant from the Tua Foundation in the amount of $27,197.
"Our thoughts and prayers go out to those affected by the devastation caused by the wildfires," said Tua Tagovailoa, Chairman of the Tua Foundation. "It is our hope that this support helps in the healing and provides a measure of hope to the Maui community."
On August 11, after the wildfires decimated Lahaina, Maui, Tua announced a campaign to help the families who were affected. In all, nearly 900 donors contributed a total of $108,788. 100% of the funds raised through the campaign will go directly to support the Maui relief effort.
The Tua Foundation encourages everyone to continue to support this effort. Donations can be made directly to one of the four organizations that are receiving the Maui Tua Foundation grants.
Additional relief grants for Maui families will be considered based on other dollars raised.
About The Tua Foundation
The Tua Foundation is a 501(c)(3) nonprofit organization dedicated to the support of youth initiatives, health and wellness, and other charitable causes. It was established by Miami Dolphins QB Tua Tagovailoa in 2021. The Foundation focuses its philanthropic efforts in Alabama, South Florida and Hawai'i. For more updates and information, please visit www.TuaFoundation.org and follow @TuaFoundation on Instagram, Twitter and Facebook.
www.Facebook.com/TuaFoundation